Your Aromatherapy Guide
Which is Your Favourite Essential Oil?
WELCOME to Your Aromatherapy Guide!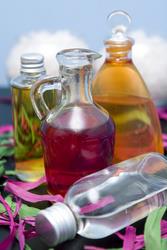 It would be so difficult to choose just one favourite essential oil! They all have such wonderful, but different aromas and properties. If you are anything like me then you will have several oils that you keep reaching out for......but these can change according to mood, situation and what's happening in your life at the moment.

But how can aromatherapy benefit you?

Your emotional health? Your physical health? Your home? Your pets? Or do you just want to pamper yourself.

Maybe you want to help someone else.....

Whether you are already an experienced aromatherapist or are just a beginner interested in finding out more, here you can:



discover the benefits of using aromatherapy for your overall health

find lots of information about essential oils and carrier oils, their properties and how you can use them

look up easy recipes and remedies for you to try at home

read about simple massage techniques to try with your friends and family

browse lots of tips and ideas to help you live a more natural lifestyle

discover how to use essential oils with your pets and animals
Perhaps you have tips, ideas or your own recipes that you would like to pass on to others.

There are probably around 300 essential oils in general use today by aromatherapists and practitioners - this would be a lot of information to get to grips with! The reality is, however, that you could fulfill most of your needs armed with about ten or eleven.

This guide aims to help you choose and blend oils for natural health, a natural home, natural pet health care and a natural you. Nature has truly provided us with a powerful system of natural help.

The choice is now yours!

Which is your favourite essential oil?

Jan Randall
Contact me at Your-Aromtherapy-Guide.com with any questions, thoughts or ideas. Maybe you have a favourite essential oil or aromatherapy recipe you would like to share.
About me and how I got into aromatherapy and holistic therapies.
An aromatherapy blog from your aromatherapy guide keeping you up to date with any additions, changes, tips and ideas. Subscribe here.
Your free aromatherapy newsletter! Keep in touch with the latest updates, news and useful tips and ideas from Your Aromatherapy Guide.
Understand essential oils and their holistic nature. Find out how aromatherapy oils are made and how they can work with your mind, body and spirit.
Here we look at ten basic essential oils which are very beneficial and useful to have to hand! Use them individually or in a blend for a healthy lifestyle.
A guide to essential oil properties to help you choose which essential oils to use for your aromatherapy massage blends, bath recipes, household cleaning and pets!
Find out how blending essential oils can be both satisfying and rewarding. Discover how simple it is to create a therapeutic or aromatic blend.
A guide to aromatherapy carrier oils. Discover the different types of carrier oils used with essential oils. How to choose the best one for your needs.
There are many antiviral essential oils, but some combat viruses more effectively. Discover practical aromatherapy to help keep you and your family healthy.
Lavender essential oil is one of the most versatile used in aromatherapy. Discover the wonderful calming and relaxing properties, a real stress beater!
Find out more about Aromatherapy massage. How does it work and what can you expect? Discover how powerful this soothing, relaxing therapy can be.
Aromatherapy and astrology. Is there really a connection? Find out which astrological essential oils work best with your zodiac sign and why!
Balance your chakras through natural aromatherapy. Discover how essential oils can help bring your body back into balance and improve your chakra health.
How can aromatherapy for acne be beneficial? Here you can find helpful information as well as tips and ideas about using essential oils safely.
How can aromatherapy for babies and toddlers be beneficial? Here you can find helpful tips and ideas about using essential oils safely.
A guide to aromatherapy for pets and how they can benefit from natural healthcare using essential oils and natural products. Some safety guidelines too!
Try some aromatherapy basic recipes to help get you started! Discover how easy it is to use your essential oils and carrier oils to create aromatherapy recipes at home.
Making aromatherapy soap is fun to do and healthier for your skin! The magic is in choosing your own essential oils and trying different aromatherapy recipes.
Yin and Yang - opposite yet complementary energies that are present in us and all around us. Discover how essential oils and aromatherapy play a part.
This glossary is here to help guide you through understanding the technical terms of aromatherapy and essential oil properties.
Patchouli essential oil. Whether you love it or hate it discover its wonderfully versatile properties! Great for skincare, personal hygiene and aromatherapy diffusers.