Chamomile Essential Oil

Calming, Soothing and Anti-inflammatory.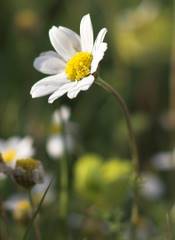 Chamomile essential oil is best blended with other oils and used in aromatherapy massages and in baths.
It is one of the gentlest oils and is particularly good to use with children and babies, helping with teething problems and tetchiness.
This aromatherapy oil is also beneficial for many female problems such as painful or irregular periods, pre-menstrual tension and menopausal problems.
It is a good remedy for all sorts of aches and pains, in particular earache, headache, migraine, low backache, period pains and toothache.
Chamomile tea is often drunk just as a refreshing and relaxing drink.
Common Name:
Chamomile or Camomile
Botanical Name:
Matricaria chamomilia or Matricaria recutita (German)
Anthemis Nobilis (Roman)
Source:
Europe and Asia
Common Method Of Extraction:
Steam distillation of the flowers.
Aroma:
German: Fruity and sharp
Roman: Warm and fruity - like hay.
Note:
Middle to base
Blends Well With:
Lavender, geranium, rose, citrus oils, black pepper, clary sage, benzoin
Properties:
Anti-inflammatory, analgesic, anti-depressant, digestive, vulnerary, vascoconstrictor, tonic, emmenogogue, nervine
See the glossary for definitions!
Mind, Spirit and Body:
Chamomile has a very deep calming effect emotionally and mentally and is good for insommnia.
As an analgesic, it is good for dull and aching pains. Lavender is better for sharp, piercing pains.
Chamomile essential oil is effective in aromatherapy massage for muscular pain and inflamed joints.
It can be used in hot compresses on boils, infected cuts and splinters and in cold compresses for sprains and swollen joints.
If suffering from urinary infections, such as cystitus, then massages and/or compresses to the lower abdomen and drinking lots of chamomile tea could help.
Skin:
A valuable oil for sensitive, red or dry skin. Its soothing and purifying properties make it a good remedy for acne, eczema and dry, itchy, flaky skin conditions.
It should not be used neat on the skin, but in baths, aromatic waters, creams and lotions.
Might be best to do a patch test first if prone to allergies.

Chamomile Essential Oil Precautions:
Chamomile is an emmenogogue so must not be used in early pregnancy.
Use in low concentrations as it has been known to cause sensitisation.
Additional Notes:
Chamomile has a Yin quality encouraging patience and easing anxiety and tension.
The Egyptians dedicated this herb to the Sun because it cured fevers while other sources say it is a Moon herb for its cooling effect.
Return From Chamomile Essential Oil Properties to Home Page
Return From Chamomile Properties to Essential Oil Properties