Patchouli Essential Oil
Grounding, Uplifting and Exotic.....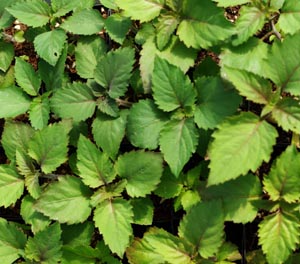 Patchouli essential oil..... Do you love this oil, reminiscent of the psychedelic hippie era, or do you hate it! This is certainly not an essential oil for everyone......but you cannot deny that it is unique!
Luckily it blends with many other essential oils, so if you don't like the aroma on its own, I'm sure you will find a blend to suit you. I love the exotic scent of patchouli, but my favourite blend is with bergamot and lavender.
Now here's an unusual fact....patchouli essential oil is one of the few that actually improves with age! It becomes thicker, more syrupy and its aroma intensifies and becomes smoother. So when you find a trusted supplier it's worth buying plenty so that you can hoard it away.
Patchouli appears to be stimulating in small doses and sedative in large doses.....it is considered to be a very yang energy oil.
Don't forget of course the aphrodisiac properties! Its rich, musky and exotic aroma seem to give it a sensual, and dare I say it, erotic appeal!
Common Name:
Patchouli
Botanical Name:
Pogostemon cablin (this is considered to be the superior variety)
Source:
Malaysia, China, India, Phillipines.
Common Method Of Extraction:
Steam distilled from the young leaves.
Aroma:
Rich, sweet, spicy and musky. (It has an oriental feel.)
Note:
Base
Blends Well With:
Lavender, bergamot, clary sage, frankincense, cedar, sandalwood, geranium, ylang ylang rose
Properties:
Anti-inflammatory, antidepressant, astringent, antiseptic, aphrodisiac, deodorant, sedative, tonic
Mind, Spirit and Body:

Patchouli essential oil is great for reducing anxiety, stress and depression......It has a balancing effect on the emotions and is often used in relaxation and for meditation. Try a few drops in a diffuser, alone or in a blend.
A good oil to use in aromatherapy massage to help the fight against cellulite and wrinkles. Use in a carrier oil for a gentle massage on the face and body to help tone your skin.
Make sure you have some in your aromatherapy first aid kit....helps soothe cuts, scrapes and sores and aids scarring. Also great for athletes foot, acne and insect bites! Once diluted in a carrier oil it can be applied directly to the injury.
It is thought that patchouli may diminish the appetite.
It is a natural insect repellant........it has been used in India for hundreds of years to protect the fabrics of shawls and blankets!
It is good for your hair and can be used to treat dandruff.
Patchouli is a deodorant so can be used to help with body odours.
Use it in potpourris between sheets to keep bedbugs away!
Put a few drops in your bath......as well as lifting your mood it can help with skin and scalp complaints!
Skin:
The skincare value of patchouli is wonderful! It helps break down cellulite and stimulates the growth of new skin cells. This means it speeds up healing and helps prevent scarring. Try using patchouli in unscented creams and lotions for general skincare.
Precautions:

Additional Notes:

Patchouli essential oil has chakra affinities with: the sacral, solar plexus and crown.
For many people, this oil is still a symbol of the 1960's 'free love' and 'flower power'.
Return From Patchouli Essential Oil Properties to Home Page
Return From Patchouli Oil Properties to Essential Oil Properties